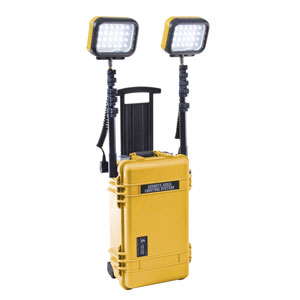 9460 Remote Area Lighting System
Using solid-state mounted LED's coupled with a thermally efficient light engine and our 1510 Pelican Protector™ Case, the RALS 9460 gives the user the ultimate maintenance free portable floodlight station to get the job done efficiently, safely and on time. The RALS 9460 houses two of it's light heads and it's multi-stage charger for that total self contained convenience, it is also equipped with a telescopic handle and rugged wheels for ease of transport.
Comes with convenient low battery warning system and waterproof activation switch.
CAUTION: The Pelican Products RALS models 9450, 9460 and 9470 contain sealed lead acid batteries that can generate hydrogen gas when charging. It is imperative that these products are charged, as instructed, with the case lid open to allow any gases to escape as charging with the lid closed poses a significant hazard. Failure to abide by this instruction could result in injury and/or damage to property. Please refer to the warnings provided in the instructions for the unit and on a decal affixed to the inside of the case adjacent to the cavity where the charger unit is packed. \n\n\n\n